The last 3 months have been extremely busy and exciting for the VEXXHOST team. Here's a recap of what we've been up to!
The last 3 months have been extremely busy and exciting for the VEXXHOST team. We took part in multiple product upgrades, offering our users the same high standard services we've always prided ourselves to give. We've sponsored in two Ansible events in which we gave talks about our new managed solution and we've excitingly reached a new social media milestone that left us proud and looking forward to the future.
Launch Of A New CI Gating Platform Powered By Zuul
VEXXHOST launched its Managed Zuul offering in September. Zuul is an open-source CI/CD tool used by large organizations like BMW and Openlab that will work for all your DevOps needs. It has a focus on project gating, making sure no broken code is ever merged into the main branch again. Our technical team worked hard in order to provide our users with a fully managed solution and extra support, making the whole Zuul experience a breeze. Read more about the Managed Zuul offering!
Looking For Beta Testers!
Would you like to take part in our release process by becoming a beta tester? Now is your chance! We're looking for beta testers for our new CI gating platform powered by Zuul. Its automation ranges from simple commit checks to the entire release process, helping our users for all of their DevOps needs. The best part? It's a fully managed solution with a simple interface! Sign up for beta testing and get free exclusive early access as soon as this exciting new platform launches.

Launch Of OpenStack's 20th Release, Train
In mid-October, OpenStack launched its 20th release, Train, and VEXXHOST was the first company to have a private cloud running this release. We are incredibly proud to have contributed to the development of this new release and are excited to share its new features with our users. We will be able to offer extended security and data protection, more support for Artificial Intelligence and Machine Learning accelerator, as well as better management and tracking of resources. If you'd like to read more about these exciting new features, check out our OpenStack Train Release blog post.
Certified Releases Of Kubernetes v1.14 v1.15 and v1.16
In October, the VEXXHOST team had the three latest releases, v1.14, v1.15 and v1.16 of Kubernetes certified by the CNCF on our platform. All three releases will now be available on our public clouds as well as private clouds, offering our users new and enhanced features such as more extensibility, support for large workloads, project sustainability and much more. You can learn more about the certification of our Kubernetes as well as all its enhanced features by reading our Certified Kubernetes blog post.

Sponsoring The 2019 AnsibleFest in Atlanta
In September, VEXXHOST attended the 2019 AnsibleFest in Atlanta, where we gave a talk and had a live demo about our new managed Zuul offerings. We were very proud to be gold sponsors of the event and enjoyed meeting Ansible enthusiasts from all over the world. We definitely look forward to participating in future upcoming events. You can stay up to date with all the other events we attend by checking out our calendar on the VEXXHOST website or by following us on Twitter! Check out the AnsibleFest Recap to read more about the event.
Sponsoring The Ansible Meetup Montreal
At the end of October, VEXXHOST attended the Ansible Meetup in Montreal where we brought (a little too much) pizza. We listened to talks about Ansible's accomplishments, path, and obstacles given by Tim Appnel, a Senior Project Manager at Ansible. Our CEO Mohammed Naser then gave a talk about our new managed Zuul offering and gave a demo explaining how this tool helps you not merge broken code. Stay up to date with events we attend by checking out our calendar or by following us on Twitter. Check out our Ansible Meetup recap to learn more about this event.
Reaching A New Twitter Milestone!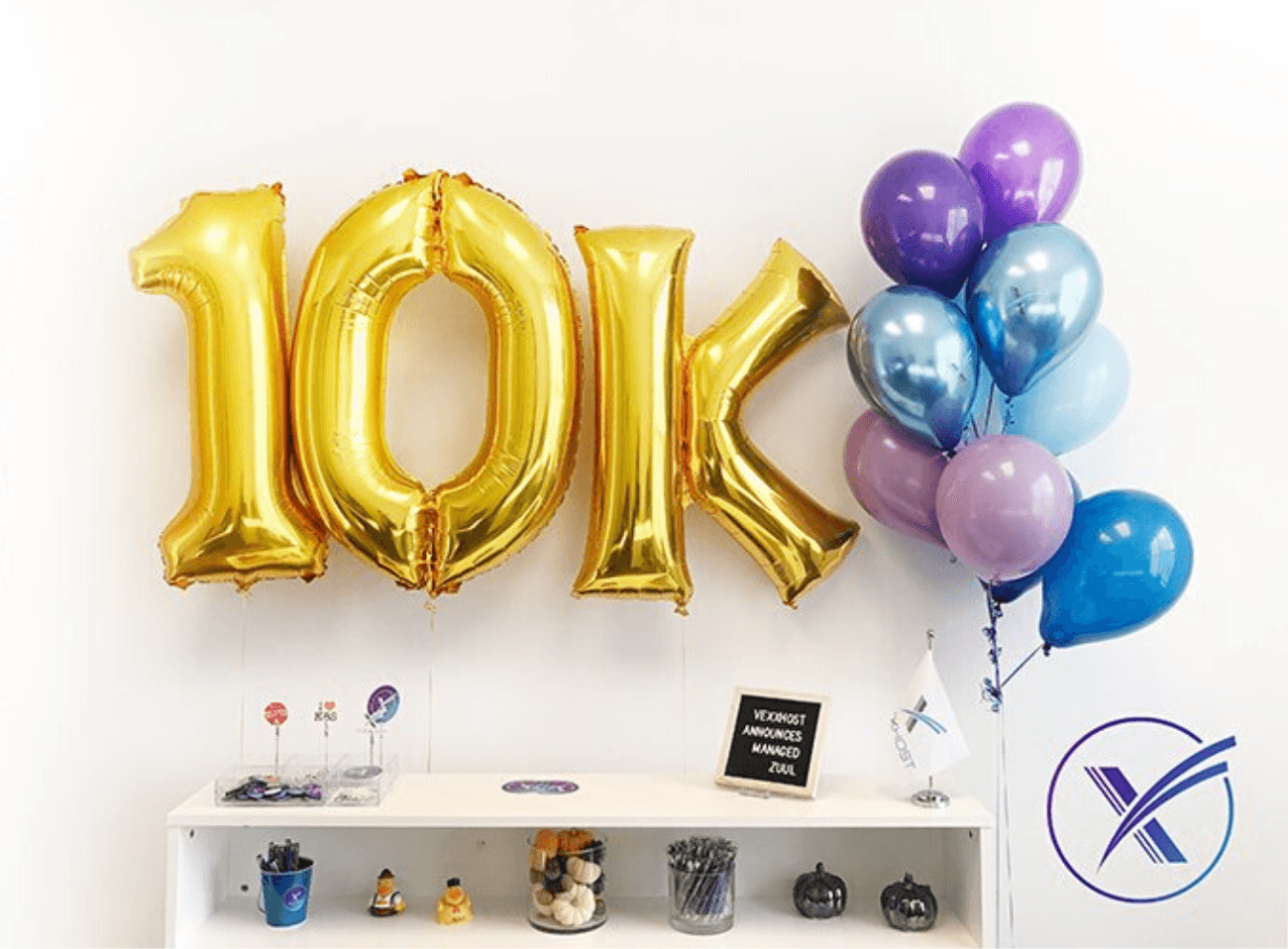 Not too long ago, the VEXXHOST team was celebrating its 10 years on Twitter and what an accomplishment that was! Now, we've had so much to say that we attained a brand new milestone by reaching 10 000 tweets, so needless to say this was cause for celebration. We celebrated with huge 10K shaped balloons, because how else do you celebrate 10K of anything? If you'd like to stay up to date with new product upgrades, updates, events, or even fun fact Fridays, make sure to be there when we reach our 20 000th tweet by following us on Twitter!
All these updates were part of our newsletter. If you'd like to stay up to date with our progress, be sure to

How to Up Your DevOps Game with Project Gating: Zuul - A CI/CD Gating Tool