Within the past month, VEXXHOST has been working tirelessly to bring you a Fully Managed CI/CD tool for all your DevOps needs. Today, we are proud to announce the newest addition to our cloud solution offerings, Managed Zuul.
Why Zuul
Zuul brings you an open-source, open-design tool for merging code, ensuring that no broken code is merged into the main branch. Zuul has several key features that differentiate it from other CI/CD tools, but the one at the forefront of its development is project gating. Zuul's automation ranges from simple commit checks to the entire release process; therefore, its services are applicable through the whole DevOps journey.
With the range of testing layouts available, Zuul has proven to be built for this purpose. The tool allows you to test across projects through a shared queue. It also saves valuable time by creating speculative future states for testing code in parallel. Furthermore, Zuul supports cross-project dependency testing through both independent and dependent pipelines.
Additionally, Zuul's deep Ansible integration simplifies the orchestration needs for any application deployment. The tool's straightforward and dynamic configuration supplies flexibility to developers in the form of multi-repository dependencies such as Github, Gerrit, and Github enterprise.

How Managed Zuul Solution Benefits You
Our Managed Zuul offering is available not only to our public and private cloud customers but also to anyone who has their infrastructure supported by OpenStack, Openshift, Kubernetes, or AWS EC2. Our offering's vast reach is due to Zuul's support of multiple cloud infrastructure providers.
VEXXHOST knows Zuul first hand as it has been tested on our cloud, all the while using it internally for continuous integration.
The challenge faced by most organizations where Zuul is concerned has to do with the complexities involved in its installation and continued management. With VEXXHOST, you not only get a managed service but also the additional assistance to maintain it, whenever needed. We do all the heavy lifting by taking care of the infrastructure layer underneath. Our offering also provides other support services like constant monitoring and upgrades.
VEXXHOST is excited to empower organizations to make the most of this useful project gating tool. As an experienced cloud computing provider, we know the importance of bringing on new and beneficial features. Availing our Managed Zuul solution allows you to focus on your core competencies by utilizing our experience to take care of the rest.
To learn more, visit our Managed Zuul page or contact us if your organization is interested in taking advantage of Zuul's efficiency and innovation stimulating design!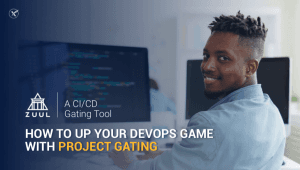 How to Up Your DevOps Game with Project Gating: Zuul - A CI/CD Gating Tool