OpenStack Upgrades
Always run the latest OpenStack release.
Fully Managed
We put our experience to work for you.
---
Leverage Our Expertise

With VEXXHOST's extensive involvement within the OpenStack community and history of deploying the latest releases on the same day of their launch, organizations can rest easy knowing we have the experience and the expertise.

Distribution Agnostic

Because our core is OpenStack, VEXXHOST can upgrade your OpenStack cloud regardless of your current provider and OpenStack distribution method used for its deployment.
Seamless Upgrades
Make use of VEXXHOST's experienced testing for your best upgrade yet.
---
High Availability

As VEXXHOST operates an OpenStack public cloud with a known history of reliability, you will benefit from high-availability.

Use of Tempest

Part of deploying a seamless upgrade includes doing the appropriate testing. Through the use of OpenStack's Tempest project, VEXXHOST can guarantee a faultless upgrading of your system.
Updated Features
Enjoy the best features of each OpenStack release.
---
Maximize Benefits

By upgrading to a later OpenStack release, users can take advantage of continuously evolving open-source software, benefiting from the critical project updates and features.

Ensure Security

By updating your cloud with more recent OpenStack releases, you aren't at risk of employing weakened or obsolete security features.
We ❤️ Open Source
🎊Atmosphere is an open source project built by us.
Atmosphere stands out as a fully certified and conformant open-source platform. With both OpenStack powered certification and certified Kubernetes, it has passed all conformance tests. This guarantees a robust, high-performance, and reliable solution for your cloud needs.
Expert Consulting for OpenStack and Kubernetes
Address the technical complexities of cloud infrastructure with the guidance of seasoned professionals. Our expertise in OpenStack and Kubernetes ensures your cloud operations are efficiently managed, optimized, and resilient.
Receive a customized, one-time deployment of Atmosphere, tailored to your business needs.
Round-the-clock availability of expert assistance for continuous support.
Leverage strategic network architecture for business scalability and efficiency.
Expert guidance for effective planning and execution of cloud deployments.
Ensure stability and efficiency with expert assistance on day 2 operations.
Seamless navigation through complex OpenStack upgrades with professional support.
Emergency Support
Experiencing a critical incident? Indicate the urgency in your message for immediate 24x7 emergency support. Your request will be prioritized, ensuring a rapid response to maintain the resilience of your infrastructure.
More about OpenStack Upgrades
---
Download White Paper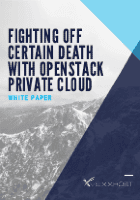 Why OpenStack?
Learn about some key benefits using OpenStack