AnsibleFest Atlanta 2019 wrapped up this past Thursday after two days of general sessions, breakout sessions and Open Lounge activities followed by a day of workshops. It's always exciting to meet new Ansible enthusiasts and see familiar faces. VEXXHOST was a proud gold sponsor of the event and would like to take this opportunity to thank all of the attendees as it would not have been a success without you.
Considering all that took place, the VEXXHOST team put together a recap for those who may have missed some of the excitement, as well as for all those who were unable to attend.

Announcement
The VEXXHOST team was excited to announce the latest addition to our Cloud Solution offerings,
. Now, in addition to benefitting from the open-source CI/CD Tool, users can take advantage of VEXXHOST's experience for managing the infrastructure layer underneath along with monitoring and support services.
We were also excited to see the Zuul team in attendance as Bronze sponsors of the event. VEXXHOST is always proud to see other members of the open-source community thrive.

Sessions and Live Demos
On day one of the AnsibleFest our CEO and PTL of OpenStack Ansible, Mohammed Naser, gave a session on an effective, modern project gating CI system, Zuul. The turnout for the session was extremely impressive, and we are happy to have had such interactive participants. Also, Paul Belanger also delivered an action-packed talk with technical information regarding Zuul and awesome demos showing Zuul's deployment on a public OpenStack cloud managed by VEXXHOST. On the following day, an extensive breakout session focussed on Zuul's gating feature and how it improves git-centric operations.

Apart from the talks, during the operating hours of the Open Lounge on both day one and two, VEXXHOST engineers were demonstrating the capabilities of Zuul and its efficacy. A video recording of the live demo will be out shortly, so stay tuned!

Giveaways
The team had great fun handing out a variety of collectibles like themed pins and stickers, along with other swag items. VEXXHOST also gave out a significant amount worth of cloud credits to test out the new solution, Managed Zuul, offering. If you signed up for our free trial, make sure to check your email for further steps and credentials.
During the happy hour organized in the Open Lounge, attendees enjoyed some delicious cocktail hors d'oeuvres. This was followed by an offsite AnsibleFest party with some live music and a lot of fun!
All in all, we sincerely enjoyed our time at AnsibleFest and we hope that you did too. Once again, we appreciate all those who stopped by our booth and for those who could not attend; we hope this recap gave you a good insight into the event. If you were unable to drop by our booth and are interested in availing the free trial for Managed Zuul, please follow this
link and sign-up.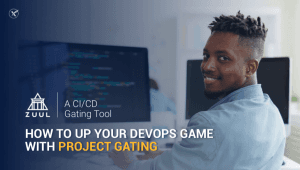 How to Up Your DevOps Game with Project Gating: Zuul - A CI/CD Gating Tool Download White Paper