Object Storage
Experience the flexibility of our Object Storage Service, powered by Ceph's robust capabilities. Offering both S3 and Swift API compatibility, along with advanced bucket policy features, it provides a secure and scalable solution for your data storage needs, be it big data, archival or backup.
Public Cloud
Cloud
Multi-tenant cloud hosted out of our global datacenters, billed per minute.
Private Cloud
Hosted
Single-tenant dedicated cloud hosted out of our global datacenters, billed per month.
On-Premise
Open source cloud platform hosted in your datacenter, with support or remote ops.
Effortless Storage
Robust Object Storage for Your Data Needs
Our Object Storage Service, powered by Ceph, offers a flexible and secure solution for your data storage needs with S3 and Swift API support.
S3 & Swift API Support

Enjoy compatibility with S3 and Swift APIs, offering flexibility and ease of use in managing your object storage.

Bucket Policy Features

Benefit from a range of bucket policy features, giving you control over your object storage and data management.

Robust Data Storage

Store your data reliably with our robust data storage solutions, powered by Ceph for high performance and scalability.

Data Security

Ensure the security of your data with features like encryption at rest, offering peace of mind for your data storage.

Scalable Storage

Easily scale your storage capacity based on your data needs, ensuring cost-efficiency and flexibility.

Data Redundancy

Achieve data redundancy and protect your data from loss with our reliable and robust object storage solutions.
Highly Scalable and Available
Never struggle with storage limitations or inaccessibility.
---
Scalability & Availability

Our infrastructure allows you to store as much data as you need without worrying about long term capacity planning or access. The infrastructure for our cloud storage service is designed to have exceptional service availability that is backed by a service level agreement for both the durability and the reliability of the data.
Enterprise-Grade Security
SSL allows for the secure transmission of data to our platform.
---
Reliable & Secure

Rest easy knowing that our system stores multiple copies of your data across our infrastructure, all encrypted with SSL, ensuring that you always have access to your most important data at all times.
Make Use of OpenStack APIs
Simplify integration through OpenStack APIs. .
---
Seamless Integration

Users can benefit from our advanced dashboard control panel and simplified integration with other OpenStack services through APIs.
We ❤️ Open Source
Atmosphere stands out as a fully certified and conformant open-source platform. With both OpenStack powered certification and certified Kubernetes, it has passed all conformance tests. This guarantees a robust, high-performance, and reliable solution for your cloud needs.
Learn more about Atmosphere
Explore Atmosphere's test environment for seamless VMs, bare metal, and Kubernetes deployment. Unlock cost-saving advantages with our open-source solution.
All Editions

Seamlessly deploy and manage VMs, Kubernetes clusters, bare metal, and more.
Leverage Terraform, Ansible or APIs directly powered by OpenStack & Kubernetes
Experience cost savings with a purely open source solution across the entire stack.

Hosted

On-Premise

Integrated monitoring, logging, and alerting streamline day 2 operations powered by a modern Prometheus stack.
Benefit from built-in Ceph-powered storage solution, including options like Pure Storage and more.
Securely powered by Keycloak with LDAP support for authentication and SAML/OpenID Connect integration.
Cloud
Ready to get started with Atmosphere Cloud?
Need help getting started? Our team of experts is here to help you.
More about Private Cloud.
---
Download White Paper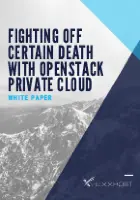 Why OpenStack
Learn about some key benefits using OpenStack