Reliable Mapping, Powered by OpenStack. 
Our DNS service, powered by OpenStack Designate, works with many different DNS servers and provides a REST API along with integrated identity authentication. DNS can also be configured to generate records based on virtual machines and network triggers automatically.
Fully Managed
Automate the mapping and management of your IP addresses to your domains.
Simplified Management

With OpenStack APIs, automatically create new DNS records for your servers.

Consistent Records

Easily maintain registration records for all of your servers.
Integrates With External DNS Providers
Never worry about vendor lock-in.
Third-Party Integration

With OpenStack APIs, users have the option of integrating with their existing or a desired external DNS provider.
Seamless Integration
Seamless integration with identity authentication.
Secure

Through integrating with Keystone, users can take advantage of identity authentication for increased security.
Constant Monitoring
Never lose sight of the health of your environment with VEXXHOST's full monitoring.
Optimal Environment Health

With our offering, users are guaranteed constant monitoring of their system every five minutes. So no matter what, VEXXHOST can ensure that your environment is operating within optimal parameters.

Incident Management

VEXXHOST also provides incident management so that should any issues arise, our team is immediately alerted and can begin restoring the service instantly.
Take advantage of our expertise! VEXXHOST is OpenStack Certified.
Our cloud services contain OpenStack software that has been validated through testing to provide API compatibility for OpenStack core services.
Get Started With Private Cloud
Download White Paper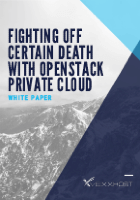 Why OpenStack
Learn about some key benefits using OpenStack
LATEST BLOG POSTS & NEWS

.