High Performance OpenStack Virtual Machines Deployed in Less Than 30 Seconds.
Build and launch applications quickly and efficiently on our high-performance cloud computing infrastructure, based on OpenStack project Nova. Our cloud servers offer you all the power, resources, and flexibility needed to run your production workloads. The all-solid-state redundant storage platform and the fully automated unique server provisioning system ensures that all your infrastructure requirements are met, using the highest level of processor and disk performance, automation, and reliability through OpenStack virtual machines.
Extensive Integrations With OpenStack Services
Broaden the potential of your virtual machines with OpenStack's services.
Enables Remote Access
Simplified and secure access to your virtual machines.
Real-Time Viewing

Through our ssh login, users gain access to a separate window that delivers to them the equivalent of a secured physical connection to their virtual machines.
Quick Deployment
Users get on-demand virtual machines with the option of multiple virtual instances of itself.
Quick Deployment

We provide on-demand virtual machines deployed within 30 seconds, so you never have to deal with delays.

SRIOV

Through the presence of a single physical device plugged into your system, you can access multiple virtual instances of itself.
Enhanced Performance Benefits
Take advantage of the numerous performance benefits that our virtual machines can provide.
PCI Passthrough

By hardwiring your GPUs and accelerator cards, the operating system no longer needs to sit in the middle of the physical network. It allows the device to communicate directly with the virtual machine, preventing significant performance losses.

VGPUs

Employing virtual GPUs delivers a similar effect to PCI passthrough, although the device itself is virtually plugged in, and you can expose it to multiple virtual machines.

NUMA Pinning

Avoid expensive computational operations that also cost you on performance and expose your desired memory architecture to a virtual machine.

CPU Pinning

Enhance the performance of your CPU with the ability to dedicate a specific processor directly to a virtual machine.
Compatible With Multiple Architectures
Employ our virtual machines with the architecture of your choice.
Intel

Launch instances with Intel x86 architecture to avail of enhanced scalability and security. Its virtual machine extension can enable a platform to function as multiple virtual systems, each capable of running operating systems and applications in separate partitions.

Arm

Developers building for Arm now have access to highly performant, readily available virtual machines.
Extensive Custom Instance Types to Meet Your Requirements
Take advantage of our set of instances or customize your own.
Prepared Flavours

We deliver a set of instances that work best for most use cases and aim at ensuring that you're benefiting from all of your resources.

Custom Flavours

All of our various instances can be mix and matched to meet your exact needs.
Get Started With Private Cloud
Download White Paper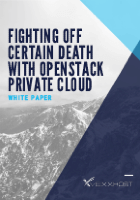 Why OpenStack
Learn about some key benefits using OpenStack
LATEST BLOG POSTS & NEWS

.