OpenStack completed a decade around the sun, and we couldn't be more thrilled to have walked alongside the vibrant community for nine long years. So, we are taking this trip down memory lane of how it all began for us and how far VEXXHOST has come with OpenStack!
The open source platform was created to provide public and private cloud services to enterprises of all sizes. The Four Opens: Open Source, Open Community, Open Development and Open Design, are the foundation stones for the OpenStack Foundation. It was these fundamentals that drove us to become a part of the community in 2011. Since then, VEXXHOST has been an avid contributor and user of OpenStack ever since. We went on to become both infrastructure donors and corporate members of the OpenStack Foundation.
OpenStack Services & Solutions
With our involvement in the community, we got started with Public and Private cloud services. We deliver consistent performance throughout our OpenStack public cloud. With no vendor lock-in hassles, one can make use of 13 Openstack projects ranging from networking to block storage, identity management to container orchestration and so much more! Through our Private Cloud service, we offer a customizable experience that can be tailored to fit any business needs. We provision the availability of bare metal, virtual machine and kubernetes all in one cloud environment.
As VEXXHOST captured interest among users, we expanded on our OpenStack related solutions through consulting and upgrades offering. Moreover, we have even had the chance to venture outside of the OpenStack software and explore other projects under the OpenStack Foundation, such as Zuul. The CI tool has been tested against our cloud and is a part of our solution offerings as well.
OpenStack has genuinely formed a well-knit community that is always working to improve the product and its ecosystem. That in itself is something worth celebrating.
Right from the second release, Bexar, our journey began as an Openstack based IaaS provider. We are now on Openstack's twentieth release, Ussuri, and VEXXHOST has been among some of the first to offer it as part of OpenStack Upgrades solution and as part of our Private cloud service.
Events and Interactions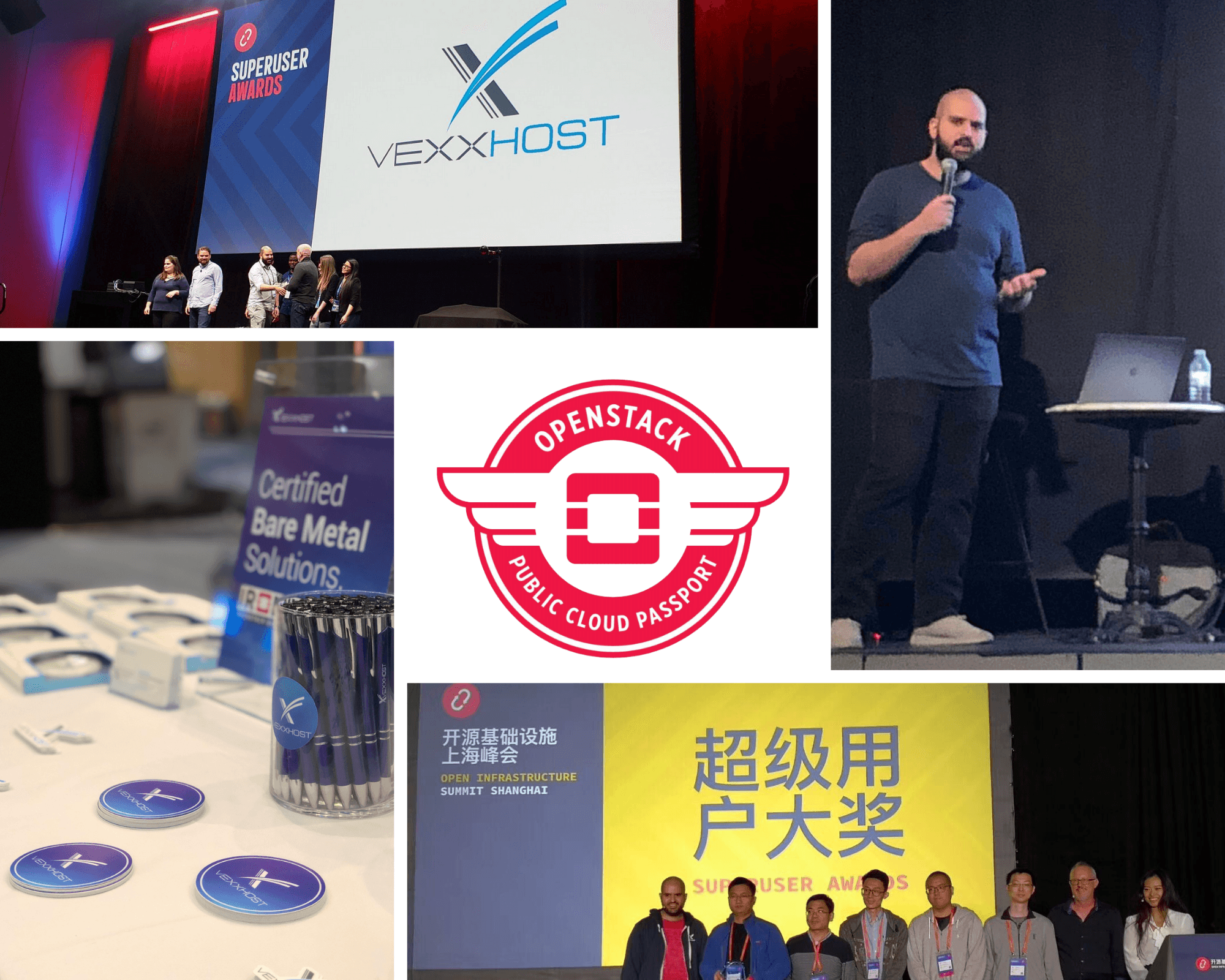 OpenStack has helped us get closer to our users and the community through events, summits and meetups. We have received some astounding exposure as members of the community. You can say we have travelled the world together, from Boston to Sydney, Berlin to Shanghai! It was because of OpenStack that we had the chance to speak at CERN, during an OpenStack Days event. Moreover, by being awarded the Superuser award in 2019, we received the same recognition from the community.
OpenStack itself has evolved plenty since 2010. The vast innovations in OpenStack have enabled great flexibility in cloud computing. Openstack is the leading open source option for public cloud environments. We are also members of the OpenStack Passport Program, allowing us to provide resources at scale to those who wish to test open source projects actively.
Even for private cloud environments, OpenStack has proven to be highly customizable. Be it bare metal, virtual machines or containers, your OpenStack environment can harness the power of all three at once! Furthermore, if you are looking for more affordable alternatives, OpenStack also supports hyper-converged infrastructure.
With the power of OpenStack, VEXXHOST has gone from local to global. We have gained the trust of enterprise clients all over the world. It is our pleasure to be a part of OpenStack when they cross this milestone. The entire VEXXHOST team congratulates OpenStack and its community on their big day, and we express our gratitude for being a part of it!