Have Confidence in Your Authentication Service With Keystone.
One-Step Authentication for all of your Cloud Services, including Existing Applications
Juggling multiple usernames and passwords is a thing of the past, whether or not your applications are OpenStack based.
One Credential For All

With Keystone's advanced one-step authentication process, you can forget about logging yourself into each service and application.

Vendor Agnostic

Regardless of its OpenStack origins, Keystone will work with any of your existing applications, ensuring that vendor-related limitations are a thing of the past.
Simple Management of Cloud Users, Groups, and Roles, along with Seamless LDAP and SSO Integration
Control Users and Groups And Adjust Each of Their Roles With the Option of LDAP and SSO Integration
Total Control

Add or remove users and groups from various applications and set their role to define a level of access.

Everything In One Place

Integrate with an LDAP directory or SSO to make any updates or adjustments once, while ensuring their reflection throughout the entire system.
Enhances Security Through Application Credentials
Minimize the Risk of User Credential Exposure With Keystone's Application Credentials
Easily Authenticate Applications

By creating application credentials, users enable their applications to authenticate to Keystone, meaning they can also delegate a portion of their role assignments.

Secrets Stay Secret

As opposed to each user's credentials kept within the system config files, Keystone employs application credentials which only use the ID and a secret string.
Enables Full Auditing, including Standard and CADF
Ease Security Concerns and Ensure You're Never Left Guessing About System Events With Keystone's Full Auditing
Attain Compliancy

The auditing capabilities of Keystone make it simple to monitor and attain compliance for security, operational, and business processes

Never Be In The Dark

Keystone's full auditing enables you to know the who, what, when, and where of any system activity with ease.
Take advantage of our expertise! VEXXHOST is OpenStack Certified.
Our cloud services contain OpenStack software that has been validated through testing to provide API compatibility for OpenStack core services.
Get Started With Private Cloud
Download White Paper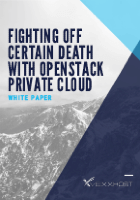 Why OpenStack
Learn about some key benefits using OpenStack
LATEST BLOG POSTS & NEWS

.