That's a wrap! As the passionate OpenStack users we are, the VEXXHOST team was happy to have attended the Open Infrastructure Summit in Shanghai. This open-source event was put together by the OpenStack Foundation and wrapped up this Wednesday, Nov. 6th.
The Summit started with keynotes on Nov. 4th and was followed by presentations and discussion forums organized for all attendees. On that same day, VEXXHOST was proud to hand over the Superuser Award and congratulate this year's winner, Baidu ABC Cloud Group And Edge Security Team. With the integration of kata containers into their cloud services platform, they became the 11th organization to win this award. Needless to say, VEXXHOST was incredibly proud to pass on the baton! On the first day, our CEO Mohammed Naser accompanied by Tobias Rydberg, a senior software developer at City Network Hosting AB, organized a discussion on coming up with a better billing solution for OpenStack deployments. Since most operators shared the same issues concerning the lack of a current billing system, contributors came together in the hopes of coming up and agreeing on an sustainable and scalable architecture.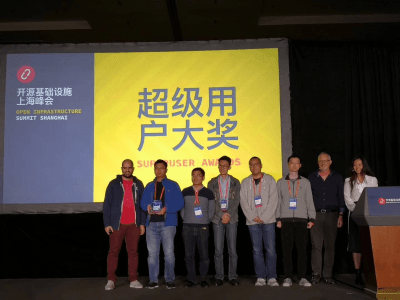 Image from: https://superuser.openstack.org/
Day one came to a close with the handover of the Community Contributor Awards. What an excitement it is to see how much the OpenStack Foundation grows each year with every summit!
On days two and three, we were also able to assist in talks and presentations involving CI/CD pipelines. There was a discussion regarding Zuul Operations explaining all the new changes that were made to Zuul, like adding support to a large number of new features and tools.
We also attended a presentation about the features and functions of Zuul, given by Szymon Datko of the OVH Group and Roman Dobosz of RedHat. They compared Zuul to other popular tools and guided us through a sample installation of the tool itself!

If you are already familiar with Zuul or are looking for a hosted solution, check out our Managed Zuul page and get in touch if you have any questions.
The event came to a close with a final presentation covering project updates. Go see what's new in the latest release, and what has been planned for the project in the upcoming release! We here at VEXXHOST were really excited to attend the Open Infra Summit and loved discussing with the open-source community.