We at VEXXHOST feel ecstatic to wrap up this edition of the OpenInfrasummit, Berlin 2022 and it was a special experience for more than one reason. The energy was really high to meet people from the community face to face. The very same people that you've collaborated with, learned from, or have inspired in the past and were limited to connecting with them via a screen.
The OpenInfra Summit witnessed a massive gathering over 3 days, more than 25 valuable keynotes, knowledge-sharing sessions and workshops. Numerous stakeholders supporting the open-source tools and platforms enabling networks, software and deployment, IT decision-makers, developers and representatives of companies added to the glitter of this face-to-face in-person interaction.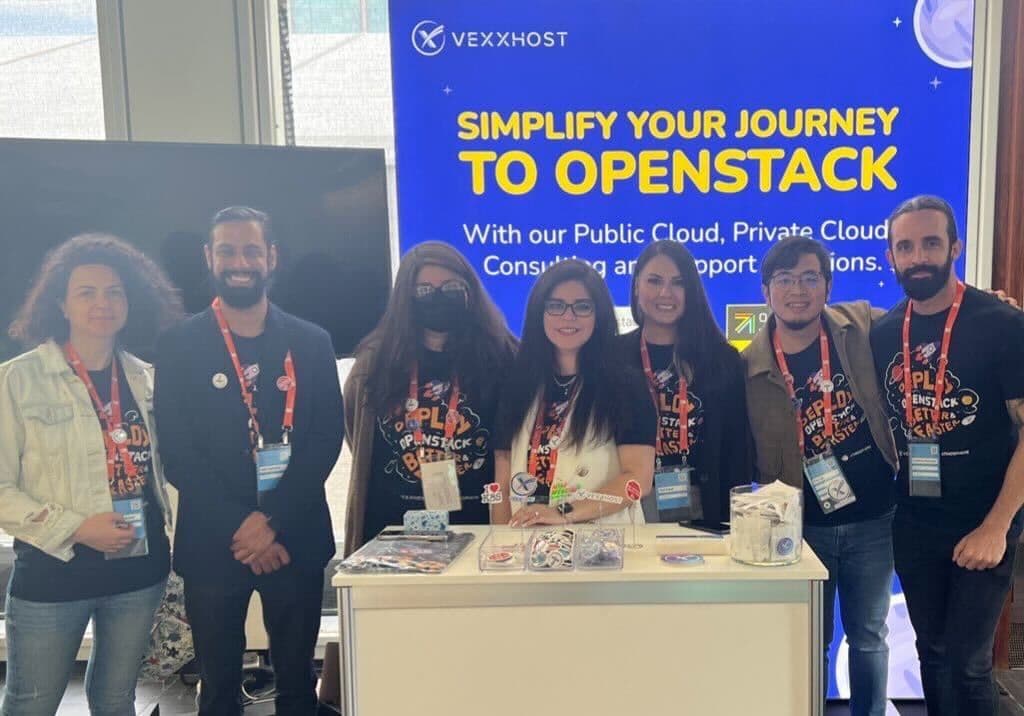 VEXXHOST Team at our Booth in OpenInfraSummit 2022
VEXXHOST being the PREMIER Sponsor of the event, our team was present at our booth in the Summit where visitors from various corners of the globe interacted with our team and we were able to share our vision about the future of this wonderful community as well as the revolution that Openstack was bringing to the future of tech.
Furthermore, VEXXHOST made some really impactful announcements at the OpenInfra Summit and delivered industry-centric keynotes emphasizing on the pathbreaking work that our team has done to achieve great milestones in the last year.
To take you on a real experience of how VEXXHOST at OpenInfra Summit immersed into the OpenStack community with tremendous participation, at all levels, we'll begin with the big announcements.
Atmosphere - latest Openstack Deployment Tool by VEXXHOST
To Set the tone for the OpenInfra Summit, VEXXHOST launched our proprietary software named "Atmosphere" in the open-source environment of the cloud-based infrastructure-as-a-service platform.
"We are very excited about the launch of Atmosphere. It stems from a need we identified while working with OpenStack and its various users"

- @_mnaser CEO of VEXXHOST pic.twitter.com/eZONOjNBKJ

— VEXXHOST, Inc. (@vexxhost) June 8, 2022
Atmosphere is a new tool that can deploy a fully integrated OpenStack with minimum chances of error while saving hours and hours of time. Atmosphere democratizes deploying OpenStack, helping Openstack engineers and teams impacting over millions of end-users.
Summit Day One GOLD Membership Announcement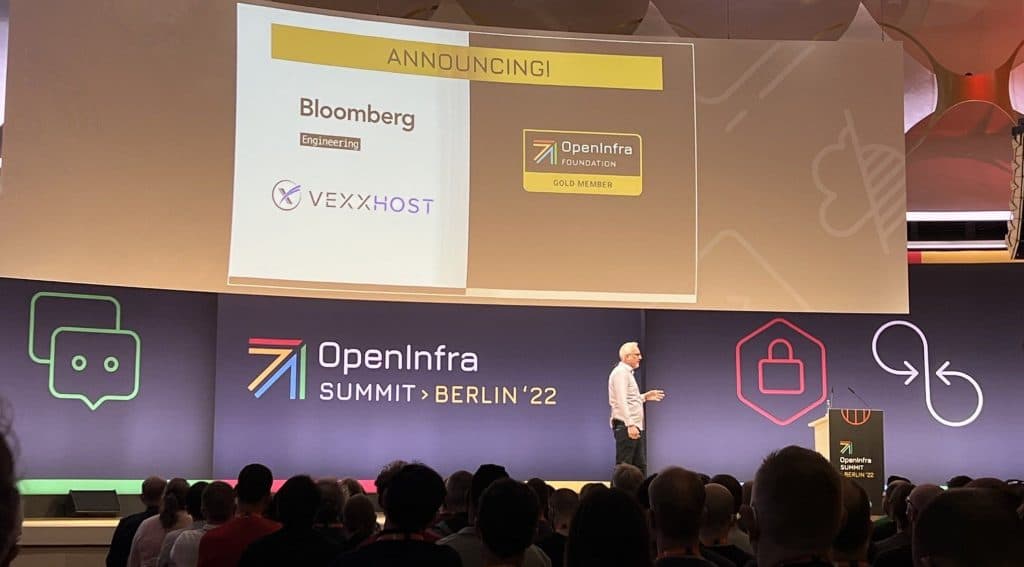 VEXXHOST Gold Membership at OpenInfra Foundation Announced
The OpenInfra Foundation announced on the very first day at the Summit that VEXXHOST has become its newest Gold Member. We have been a long-term supporter to the OpenStack Foundation as a SILVER member and we just stepped up to the GOLD membership as the Foundation branded itself as OpenInfra Foundation. VEXXHOST is a true believer of the community and we are committed at a bigger scale this time around to make our belief even stronger internally. We have been an active contributor to the community believing in the values of sharing and accessibility.
Day Two Our Founder & CEO, Mohammed Naser delivered a keynote
In case you've missed it, for our collaboration with CIENA in their public-private partnership ENCQOR 5G, focused on the research and innovation of 5G technologies we provide a fully managed service of the existing OpenStack cloud environment. Our Founder & CEO Mohammed Naser and George Efthimiopoulos (director of innovation and research programs of Ciena discussed this collaboration and contributions to Canada's ENCQOR 5G partnership.
As one of the newest OpenInfra Foundation Gold Members, @vexxhost's contributions to ENCQOR 5G will be to provide a fully managed service of the existing #OpenStack cloud environment, partnering with @Ciena. #OpenInfraSummit pic.twitter.com/KJglRc8KuM

— OpenInfra Foundation (@openinfradev) June 8, 2022
Mohammed took the stage to shed more light on VEXXHOST's management of the OpenStack cloud environment for the ENCQOR compute network supported by Ciena.
Day Three Talk by Director of Business Hind Naser and Guilherme Steinmüller
In this talk, the VEXXHOST team took a deep dive into how they've deployed the cloud, using open source tooling, the architecture of the underlying infrastructure and discussed all the different hardware and GPU capabilities within OpenStack that benefited the program.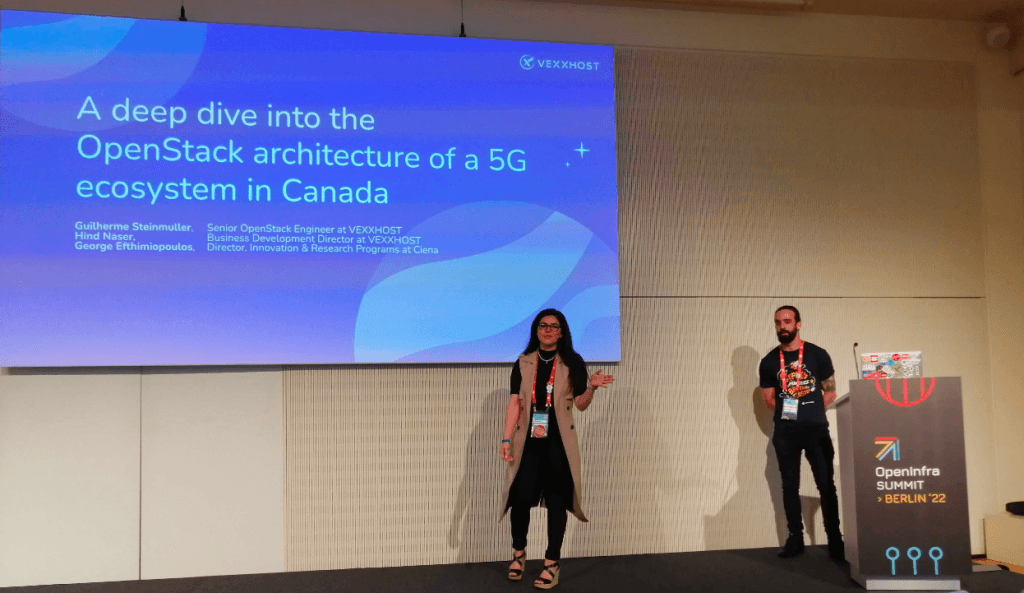 Deep Dive into the OpenStack architecture - Hind Naser, Guilherme Steinmuller Pimentel
OpenInfra Summit 2022, proved to be a stepping stone for VEXXHOST's commitment to the OpenInfra Foundation, our deep-rooted values in open source and the foundation of the new age networks, ready to connect more services on a larger scale than ever seen.
We have come back from the Summit with new hopes, fresh energy and dreams of new possibilities at VEXXHOST. As we bid adieu to OpenInfra Summit 2022, we look forward to coming back next year with more fervor and bigger news to share.