We're excited to announce our partnership with one of the leading platform-as-a-service providers, Cloud66. Typically, customers would need to go through the process of manually setting up and deploying their applications on the cloud. With our new Cloud66 partnership, your Ruby applications can now be deployed easily and automatically on our cloud computing platform with no architecture complications directly from Cloud66's website.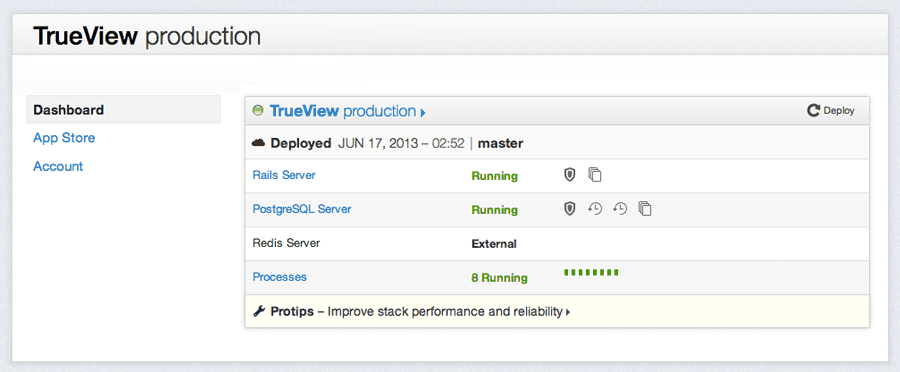 Cloud66's fully automated platform allows you to easily provision, deploy and manage Ruby applications on our cloud. It removes all the added complexity of deploying applications on the cloud and makes deploying applications as easy as filling API credentials and providing where the repository where your Ruby application is stored.
Their automated platform will then automatically detect everything about your Ruby application environment, evaluate the requirements and proceed to spin up instances on our cloud compute service under your account. It will do everything such as creating and configuring backend servers, firewalls, load balancers and database servers.
As the usage of your application grows, Cloud66 is there to support you. It has the ability to scale your application out on our cloud by spinning up new backends with the click of a few buttons. No need to work with complicated load balancers and deployment scripts for scaling up and down.
The advantages of using Cloud66 don't stop there. As your servers are all being deployed under your cloud computing account, you have full root access to your own servers which allow you an extra level of flexibility that is not available with most other platform-as-a-service companies.
One of Cloud66's focuses is its open platform which does not lock you into a specific cloud platform. We embrace this ideology as a company that also embraces an OpenStack API which is all about removing vendor lock-ins.
We're extremely happy to have Cloud66 as one of our cloud computing partners and we're going to be providing full assistance for our customers in deploying on our cloud. Our close relationship with Cloud66 will ensure that any issues can be solved in a timely manner for our customers.
We're very pleased to have created this partnership. By combining our cloud computing service that delivers the best value per dollar and one of the industry's highest-performing servers, we're able to deliver the best value for potential customers requiring Ruby hosting with Cloud66.
This is just one of the next big upcoming set of partnerships that we're creating in order to make it easier to get started on our cloud computing platform. We're happy to have Cloud66 on-board and look for more tutorials in the future on deploying with Cloud66.