Many organizations are embarking on the cloud journey. However, there is often a lack of informative resources available. As a cloud infrastructure provider, VEXXHOST has brought out many such resources to help spread cloud knowledge among people and aid them in making informed decisions. Here is a look at three such video resources, answering three pertinent cloud questions.
1. How to Find the Right Public Cloud Provider?
When your business has made the big decision to move to a public cloud provider, there are many elements worth considering. From cost savings, productivity, uptime, and even agility, your public cloud needs to fit the unique needs of your business. It is essential to take the time to find a provider that you trust. Moreover, taking the time to find the right fit can mean saving valuable resources such as time and money.
Luckily for you, the team of experts at VEXXHOST is here to outline what your business absolutely needs to consider when choosing the right public cloud provider. Ultimately, focusing on these three elements will help your business with a smoother transition to the cloud, more significant returns on investment, and better productivity within your organization. Here is a look through one of our video resources.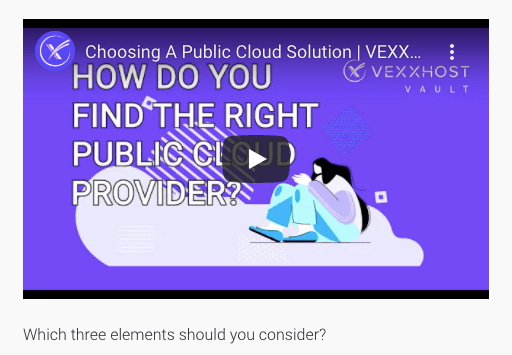 2. How Do You Find the Right Server Type for Your Needs?
We stumble upon different kinds of hosting models when looking for or comparing service providers related to the cloud computing industry. Servers represent the hosting model that they facilitate.
Matching your enterprise needs with the configuration of servers is crucial for business success. Not only do you need to prepare for your current business model and requirements, but you also keep in mind the needs of the future. Some important things to consider are features, scalability, and pricing of the server type before making the decision. Cloud servers offer enhanced performance and cost-effective solutions for your business. A cloud server is among the most agile services, ready to absorb any internal or external changes in the everchanging business ecosystem.
To pick the correct server, you must know how it operates and whether it would fulfill your business requirements or not. It is prevalent to confuse one for the other. Here we will look at three types of servers: virtual private server, dedicated server, and cloud server.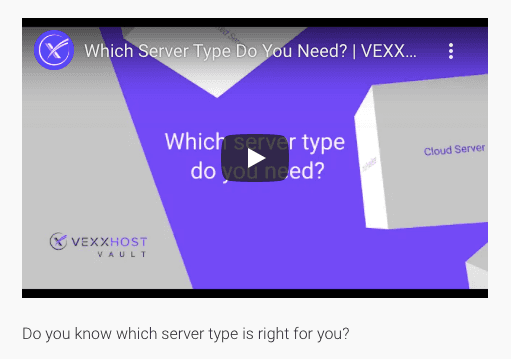 3. How Do You Overcome Operational Complexities in the Cloud?
Across different verticals, the use of cloud computing is continuously on the rise. However, not every enterprise can maximize business success through cloud technology. If you are repeatedly facing cloud operation hurdles, then the benefits of your environment are nullified. Whereas, if you know how to make the most of your cloud, then the advantages increase exponentially.
Businesses that are scaling operations are likely to face problems. The most common issue is the scale of operations. Your cloud infrastructure must be elastic enough to absorb these changes, whether you are scaling up or down. Additionally, being able to maintain a consistent stance on operations and pattern of application development is critical to operational success.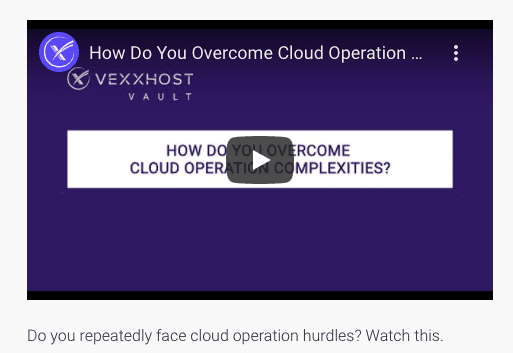 VEXXHOST Cloud Solutions
With the help of these video resources and more, organizations should focus on cloud solutions that suit their business requirements and facilitate steady growth. As a reputed IaaS provider, we ensure that our clients get the best scalability services through our clouds. At VEXXHOST, we provide cloud solutions for a multitude of clients worldwide. We provide OpenStack-based clouds, including public clouds and dedicated and highly secure private cloud environments, ensuring utmost security and agility.
Take advantage of our limited-time deal just to set up a one-time, OpenStack-based private cloud deployment - at 50% off! The cloud will be running on the latest OpenStack release, Wallaby, which allows you to run Kubernetes and VMs in the same environment, and can be deployed in your own data centers with your hardware. Furthermore, all these will be deployed and tested in under a month!
What are you waiting for? Learn more!