Reliable OpenStack Based File Sharing.
Integrates With Block Storage
Users can enjoy a simplified integration with OpenStack's block storage.
Block Storage

Manila integrates with OpenStack's block storage by installing the necessary software, enabling any designated system to have access to the file share. Our dashboard makes it easy to use this system alongside any other components your app needs.
Leverage Your Existing Hardware
Users don't have to worry about existing hardware going to waste.
Make Use of Existing Hardware

Users can leverage their existing file-sharing services through OpenStack's file-sharing API.
Take advantage of our expertise! VEXXHOST is OpenStack Certified.
Our cloud services contain OpenStack software that has been validated through testing to provide API compatibility for OpenStack core services.
Get Started With Private Cloud
Download White Paper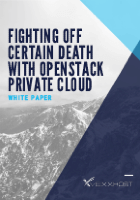 Why OpenStack
Learn about some key benefits using OpenStack
LATEST BLOG POSTS & NEWS

.