Take Advantage Of High-Performing Bare Metal 
VEXXHOST can offer our users the option of deploying their private cloud on high-performing bare metal, delivering to them a fully dedicated and secure physical machine that can either live in our data centers or yours.
Optimal Security
Due to its physical and dedicated nature, the security provided by bare metal relieves users of any risks associated with environment neighbors.
Dedicated Physical Machine

With bare metal, users are guaranteed their dedicated machine, meaning that neighbors are a thing of the past.

Highly Secure

Due to the isolation of the dedicated machine, users also benefit from the added security, avoiding exposure of their data to others.
Centralized Management of Machines
Bare metal can act as an automation tool for the management of all your machines and even enables our users to access certain features that aren't available in virtual machines, like having multiple levels of virtual machines.
Automation

Bare metal provides users with a central way of housing and managing their various machines, including their virtual machines.

Added Features

Users can take advantage of some of the features delivered by bare metal that aren't possible with virtual machines, such as having one virtual machine on top of another.
Reduces Complexity & Increases Performance
Bare metal is notably more straightforward to configure than virtual machines. Besides, while the performance losses between bare metal and virtual machines aren't always significant, they do exist for particular use cases like those of financial institutions.
Simple Set-Up

Bare metal can provide a less complex set-up option in comparison to virtual machines.

Increased Performance

Where use cases require it, bare metal can deliver a higher level of performance than virtual machines. In specific industries such as finance, these performance improvements can have a significant impact.
High Availability
The provisioning of high availability is delivered at the database level through the region controller and can also be attributed to physical availability zones.
Highly Available

Through the region controller, our users benefit from high availability, starting at the data center level.

Physical Availability Zones

Users are able to create and assign physical availability zones to control critical availability areas better.
Powered by Ironic
VEXXHOST employs OpenStack technology for its bare-metal provisioning.
Take Advantage of Open Source

By using OpenStack technology, VEXXHOST avoids its users facing the risks associated with vendor lock-in.

Compatibility

Through the use of Ironic, VEXXHOST can efficiently run any other OpenStack projects and configure your bare metal explicitly for your use cases.
Scalability
Bare metal is easily scaled from a few servers to multiple racks within a data center and through their distributed gateways, make it possible to process large parallel deployments.
Grows With You

VEXXHOST's bare metal offering can be easily scaled based on your needs, whether it be a few servers or numerous racks.

Distributed Gateways

Bare metal enables users to process massive parallel deployments through their distributed gateways.
Take advantage of our expertise! VEXXHOST is OpenStack Certified.
Our cloud services contain OpenStack software that has been validated through testing to provide API compatibility for OpenStack core services.
Get Started With Private Cloud
Download White Paper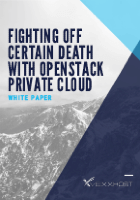 Why OpenStack
Learn about some key benefits using OpenStack
LATEST BLOG POSTS & NEWS

.