The Open Infrastructure Summit 2020 was held virtually and there were many exciting things that happened, including the foundation's name change and VEXXHOST's public cloud revamp. Here's a quick recap.
And that's a wrap! Open Infrastructure Summit 2020 comes to an end and it was quite an eventful few days, won't you agree?
Owing to the pandemic situation, the event was held virtually this time, from 19th to 23rd of October. We definitely missed the face-to-face interaction but feel that the virtual summit was a different kind of vibrant experience altogether. At VEXXHOST, we had even more reason to be proud as we were a headline sponsor this time, and made quite a few exciting announcements during our keynote session.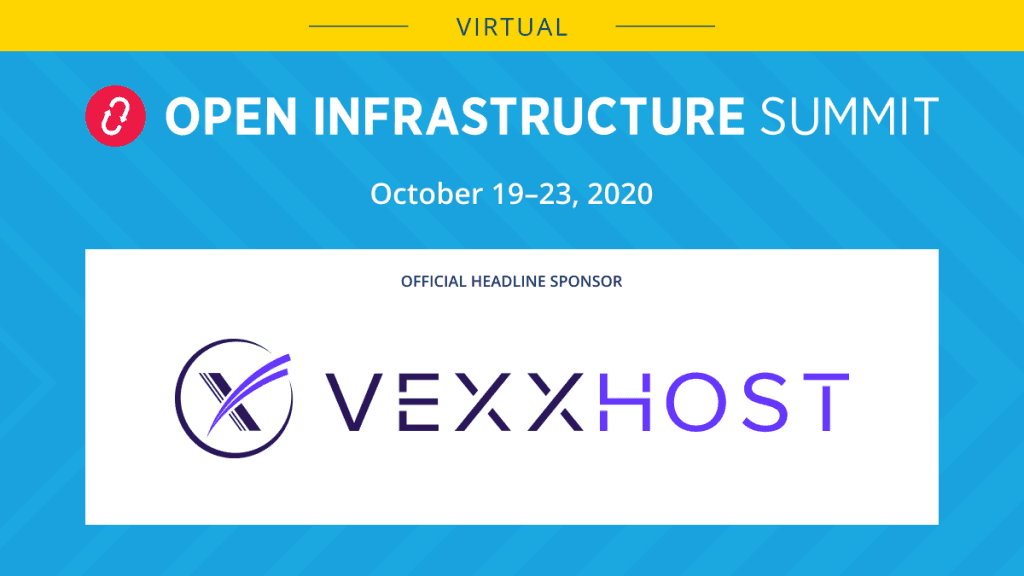 Image Credit: OpenStack
The collective energy we felt from participants from across the world through keynotes, workshops, and at our own virtual booth made for a summit like never before.
An Overview
First of all, we greatly appreciate the spirit of the open source community to really come together, organize, and make an event of this magnitude a grand success. Considering the challenging nature of things due to the pandemic, the effort deserves to be lauded.
Open source developers, IT decision-makers, and operators representing as much as 750 companies spanning 110 countries attended the four-day event.
Members of open source communities such as Ansible, Ceph, Kubernetes, Airship, Docker, ONAP, Kata Containers, OpenStack, Open vSwitch, Zuul, StarlingX, OPNFV, and many more were eager participants of the summit from start to finish.
There were numerous keynotes, forums, sessions, presentations, and workshops on relevant such as Container Infrastructure, 5G, NFV & Edge, Public, Private & Hybrid Clouds, CI/CD, AI, Machine Learning, HPC, and Security.
The Open Infrastructure Summit also saw a huge announcement from the foundation.
It's the Open Infrastructure Foundation!
During the Summit, the OpenStack Foundation announced its evolution into the 'Open Infrastructure Foundation'. This move came as a surprise for many but was welcomed with much cheer and fan fervor from attendees. The renaming is part of the foundation's multi-year community evolution initiative which promises to better the way open source projects work. VEXXHOST congratulates the foundation on this occasion. We are also proud to be partnering in as founding Silver Member of the Open Infrastructure Foundation in this new beginning.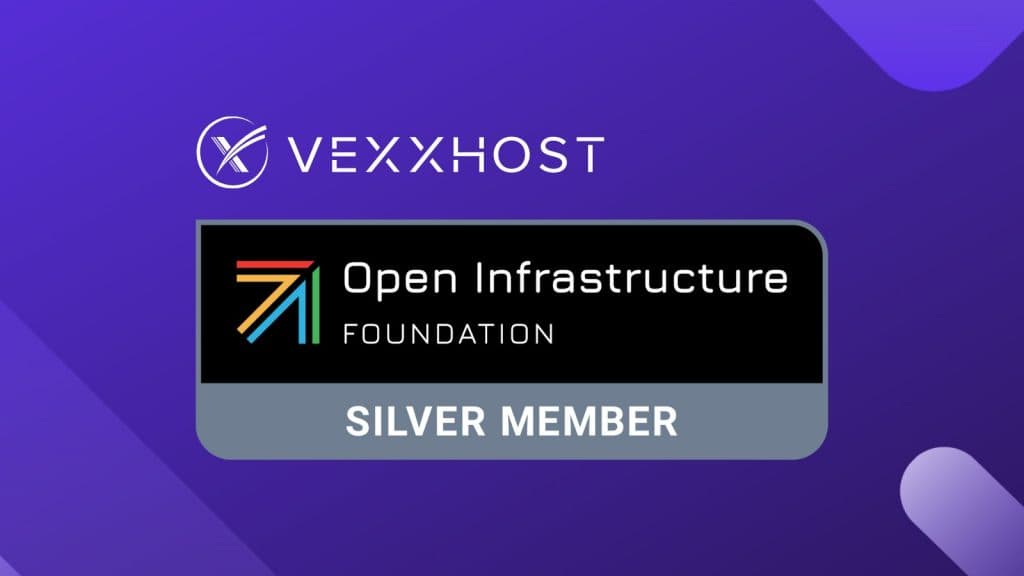 VEXXHOST - Silver Member - Open Infrastructure Foundation
The OpenStack Foundation was founded in 2012 to govern the OpenStack projects and several other open source projects that evolved from it. Over the years, Foundation has developed into an entity including much more under its wings. Moreover, modern use case demands placed on infrastructure, such as containers, 5G, machine learning, AI, NFV, edge computing, etc., were also responsible for this shift.
Even with its evolution into Open Infrastructure Foundation, the initiative will still have OpenStack project at its heart. The only difference is that the development and adoption of other projects will get a greater scope and attention as well.
The foundation also announced that even more innovations are planned and will be announced to the community shortly. We can't wait to see what's in store.
Speaking of announcements, we had a few important ones during the summit as well.
Team VEXXHOST Takes a Leap Forward
This year, Team VEXXHOST was proud to be a headline sponsor of the summit. We had a virtual booth of our own and interacted with members from various open source communities. We also gave away virtual bags with many exciting offers and credits to people who visited us at our booth.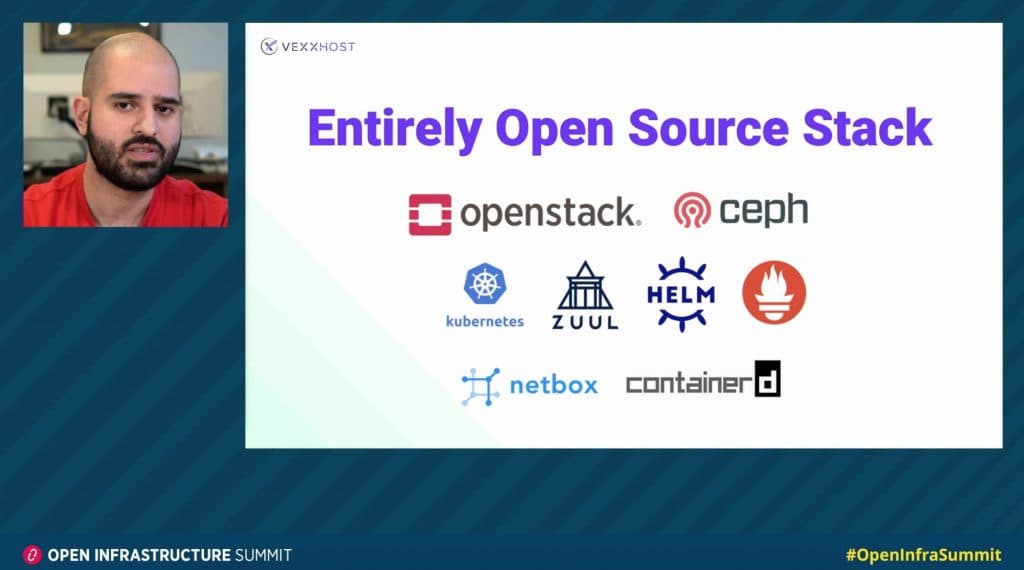 Mohammed Naser - Keynote - Open Infrastructure Summit 2020
Our CEO, Mohammed Naser, delivered a keynote presentation and a talk on Tuesday, October 20th. During the keynote, he announced a revamp of our public cloud offerings and here are the relevant details for you:
Our Montreal region gets new servers equipped with 2nd Gen AMD EPYC™ processors
Storage at our Montreal region upgraded from SSD to NVMe
New aggressive pricing for public cloud offerings
A new region in Amsterdam!
Find all the juicy details about our public cloud revamp.
To share our happiness on this occasion, we're offering free credit to users to experience our OpenStack powered cloud. This free trial will provide you with a straightforward user interface grant you access to all the cool tools you need in a web-based console.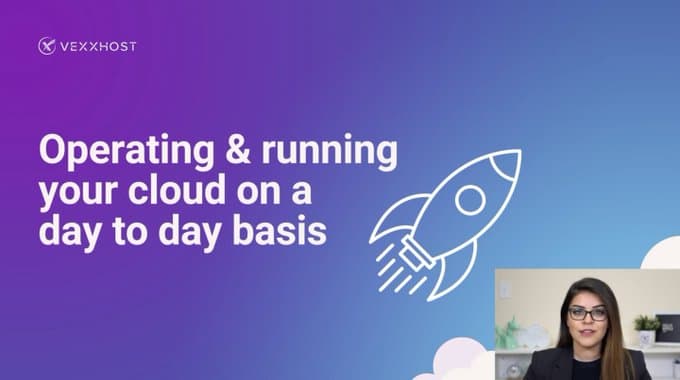 Hind Naser's breakout session on "The Big Decision When Adopting OpenStack as a Private Cloud".
On Day 2 of the summit, Hind Naser, our Director of Business Development, presented a breakout session talk on "The Big Decision When Adopting OpenStack as a Private Cloud". Through the session, Hind provided informative insights to the attendees on the various decisions, limitations, and pitfalls when a user is starting the private cloud journey.
See You at the Next Summit!
We had a great time at Open Infrastructure Summit 2020 with all the new announcements, keynotes, sessions, workshops etc. Thank you one and all, for attending the summit and visiting us at our virtual booth. If you would like to know more about our public cloud, private cloud or other solutions, do contact us!