High Performance Big Data Platform.
Based on the OpenStack project Sahara, our broad range of services and high-performance cloud computing platform allow you to quickly build and deploy big data platforms and applications with zero upfront costs. Our cloud computing platform permits you to deploy big data applications such as HortonWorks HDP and Cloudera CDH 300% more efficiently than our competitors, giving you access to your data faster and with greater cost efficiencies.
Faster Deployments & Results
Start building your big data applications without delay.
Quick Deployment

With our cloud platform, you can launch hundreds of servers in a matter of minutes, enabling your team to start building your big data applications without delay.

Cost Savings

Make use of our enterprise-grade hardware as opposed to making substantial investments on your own to deploy big data platforms.
Fully Scalable Within Seconds
Easily scale servers up and down as required.
Easy Resource Management

Cut down on time frame required to acquire and deploy new hardware as on the cloud; you can launch more servers for the few hours that you need them and terminate them afterward.
Optimized High-Performance Cloud
Users always benefit from consistent performance.
Guaranteed High Performance

We have taken measures to ensure that you get a consistent level of performance at all times, eliminating 'noisy neighbor' problems through our high-performance big data services.
No Vendor Lock-In Across the Entire Stack
Never worry about vendor lock-in with OpenStack APIs.
Take advantage of our expertise! VEXXHOST is OpenStack Certified.
Our cloud services contain OpenStack software that has been validated through testing to provide API compatibility for OpenStack core services.
Get Started With Private Cloud
Download White Paper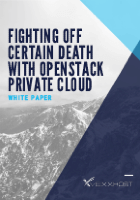 Why OpenStack
Learn about some key benefits using OpenStack
LATEST BLOG POSTS & NEWS

.